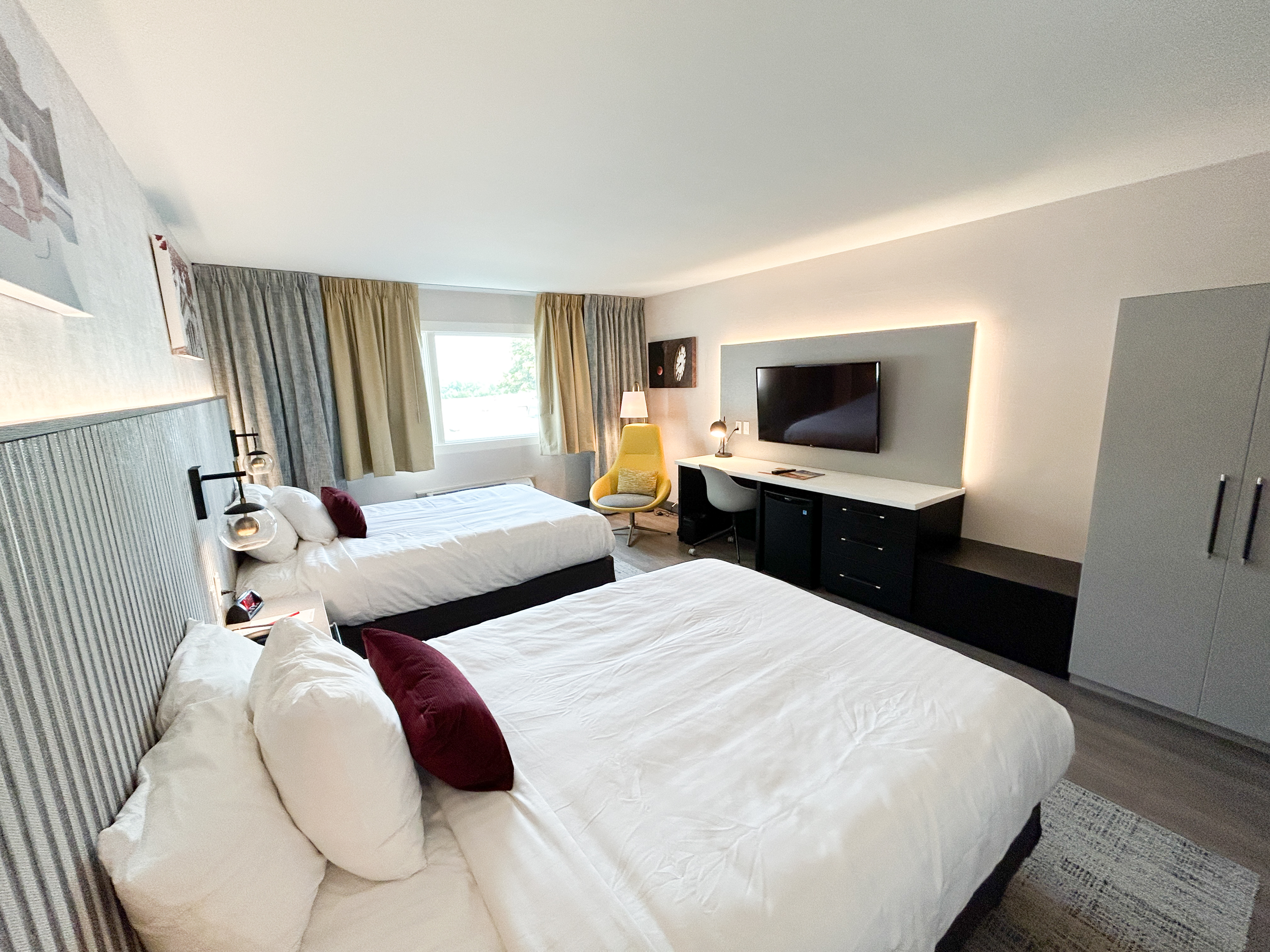 In May 2023, Story Construction completed a full design-build remodel of all 187 hotel rooms at the Gateway Hotel & Conference Center in Ames. The project began in November 2022 and was completed in time to welcome guests attending Iowa State University's spring graduation ceremonies.
The renovation consisted of two primary elements: replacement of all interior finishes within the suites, and replacement of the plumbing stacks that ran through each room.
"The owners are ISU supporters – they built the hotel for ISU, and 45 years later they ensure the hotel continues that mission," said Josh Markle, owner's representative for the renovations. "It was important not only that the rooms be updated to support that mission with a hotel the ISU community can be proud of but also to complement the unique architecture and landscape of the property. Deciding what updates would be made was led by listening to our customers and to hotel design experts."
The Gateway is separated into three "towers" of rooms that consist of three, six and eight floors respectively. Story Construction presented the Gateway with three options for the flow of renovating rooms, and eventually landed on a dual-tower approach: taking the towers of three and eight floors offline for renovation while leaving the six-floor tower available for reservations. This approach took 122 rooms offline for renovation for the first phase, and beginning the remaining 65 rooms once the first phase was complete.
"This approach was a middle ground between a very aggressive schedule and being able to keep some rooms online at all times," said Chad Hutson, Story's project manager on the project. "We were confident in completing the renovations ahead of May graduation, and we could keep rooms available for reservation throughout the project."
To maximize efficiency, the team put together a top-down floor-by-floor value stream with a goal of each crew working through two rooms per day. This began a train of work through each floor that resulted in each room being completed in 10 to 11 days. Coordination of work zones in each room was critical to allow for different trades to be in the same room on a given day without working on top of one another. Crews began bulk cutting and packing materials on a room-by-room and floor-by-floor basis, only bringing to their work area what was actually needed to complete their daily planned work.
Material delays during the first phase of the project created the need for second, much shorter value stream, but once crews began on the second phase in the six floor tower in April when all materials had finally arrived, the room by room efficiency doubled to 4 rooms per day for each crew.
"Credit goes out to our crews and subcontractors for taking it upon themselves to find efficiencies in their day to day work activities and improving the team's understanding of the work," added Hutson.
Design of the new finishes and furnishings was done by Story's in-house design team in partnership with YR Studio, a Chicago-based design and build studio specializing in high-end residential architecture and interior design led by Yael Rajstein.
"We really aimed to brighten these rooms utilizing LED lighting, a more contemporary color scheme and allowing more natural light into the rooms," said Jeff Bodin, principal architect at Story. "Yael did a fantastic job tying together the furnishings and artwork in a way that brings together the histories of the Gateway and the university."
The Gateway held a ribbon cutting and room tours on June 29 to celebrate the completion of the renovations.
"My collaboration with the Story team was truly exceptional, spanning from the initial design and planning phases to the successful project completion," added Markle. "Despite facing a demanding schedule and considerable stress, the team managed to meet the deadline and, impressively, even surpassed our expectations. Throughout the project, we emphasized the significance of maintaining strong relationships and open lines of communication. This approach proved invaluable in ensuring that everyone remained aligned with the project's goals and responsibilities. It facilitated seamless coordination and allowed us to address any challenges promptly and efficiently."
Delivery: Design-Build
Designer: Story Design
Project Manager: Chad Hutson
Superintendent: Troy Donahue
Project Engineer: Stephen Shuka