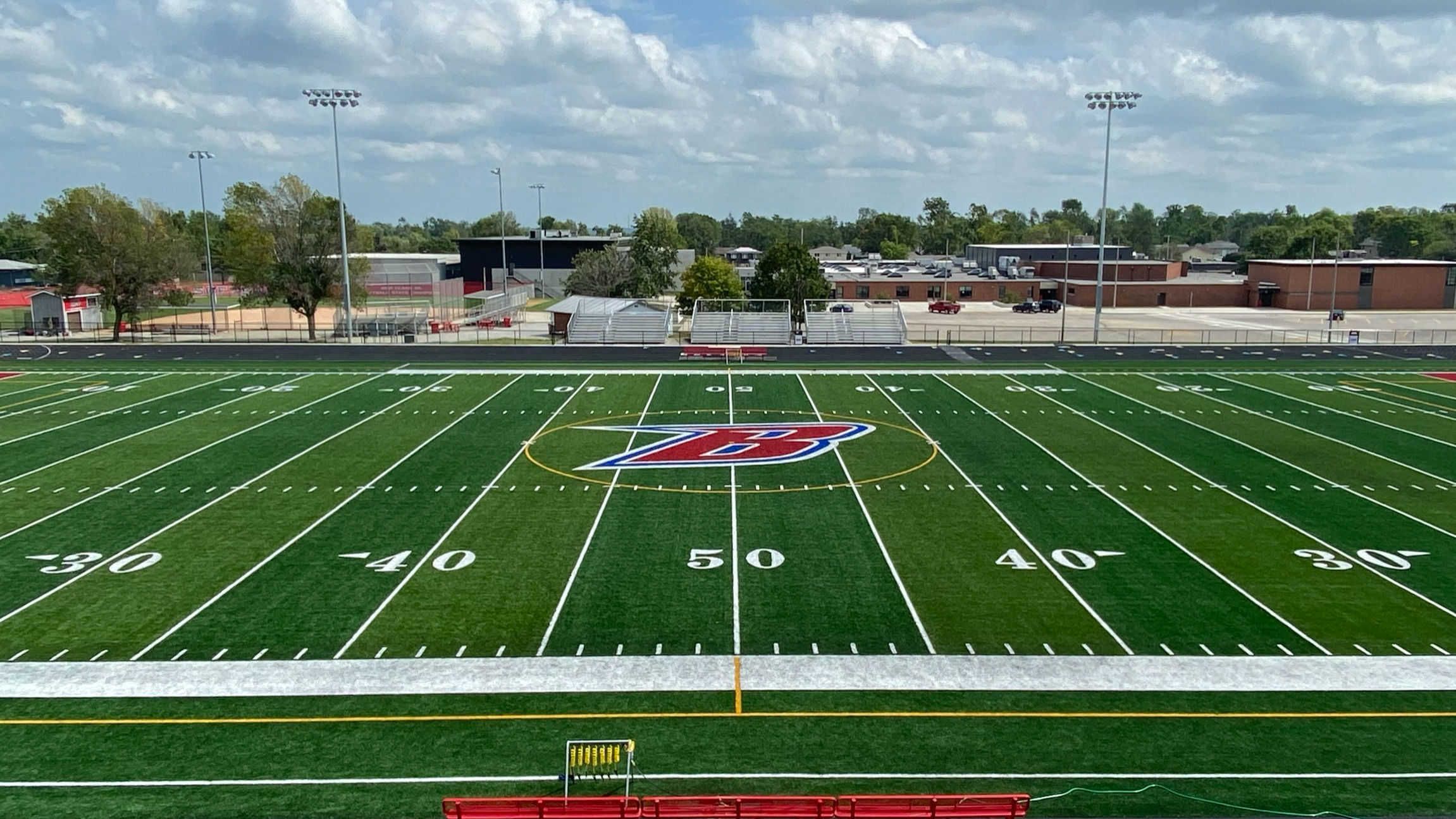 On Friday, Sept. 10 the Ballard football team stepped foot on its home field in Huxley for the first time in nearly two years. The team and fans were welcomed home to a new turf field, press box, ticket booth, storage building, and remodeled concession stand. Story Construction served as the construction manager for the stadium improvements after serving in the same capacity for the district's middle school renovations completed in 2020.
While improvements were planned for Ballard's stadium over the summer of 2021, the derecho in August 2020 rendered the stadium's facilities unusable for that fall.
"The derecho winds caused the existing press box to become unstable, which made the bleacher seating unsafe for spectators," said Chad West, principal at 10Fold Architecture and Engineering.
For the 2020 football season, the Bombers played scheduled home games at other schools in its conference that weren't hosting home football games that given week.
"Though we had already planned these improvements, being away from our home turf for a season beforehand makes it extra sweet to come back to new facilities," said Nate Boock, activities director for Ballard High School. "Kids and parents are excited. It's a huge upgrade from what we had, especially with critical things like the bathrooms and the larger ticket booth, not to mention the new press box."
 The derecho also caused damage to the stadium's scoreboard, which ultimately provided an opportunity for the school district to reimagine the ideal spectator expereince. A new digital video scoreboard was installed before the 2021 football season – one that could easily be customized for soccer and track as well, and could be used to promote local business sponsors. The most visible upgrade, the conversion from natural turf field to synthetic turf field, is also the most useful now that it can be used more frequently and for more functions thanks to enhanced drainage and durability.
"Jamie and Nate have been fantastic," added Boock. "They're personable and excellent communicators, and they've always been here when we need them. Nate's been here for almost two years, with the stadium upgrades and the middle school project, so it feels like he's one of our own employees."
In their first game back home, the Bombers defeated their non-conference opponent 26-0.