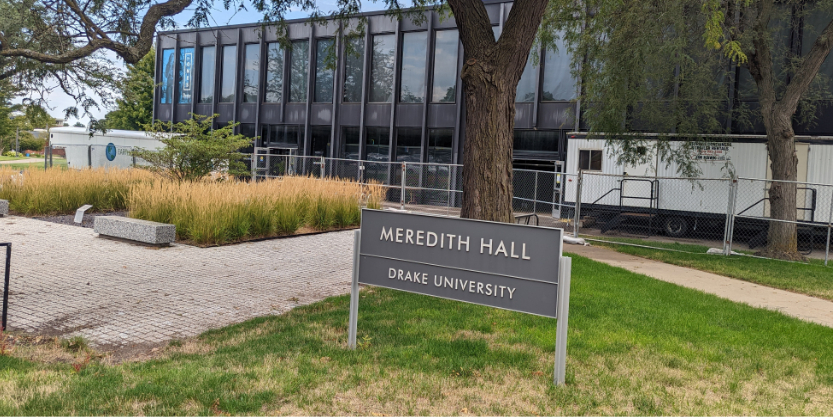 This summer the Story Construction team is wrapping up work at Meredith Hall on Drake University's campus, the fourth major renovation project over the last several years on campus for Story.
Home to the university's school of journalism and mass communications and the most used classroom building on campus, the team at Drake determined it was time for Meredith Hall to receive updated technology, cooling and heating. The building was designed by German-American architect Ludwig Mies van der Rohe, a pioneer of modernist architecture, and was built in 1964. In March 2021, Story Construction was hired by the university to join the team alongside architecture firm BNIM to determine the most valuable use of available funds for the project.
The primary goal of the renovations was to improve technology for classrooms and media lab spaces and upgrade heating and cooling systems throughout the building to give students learning envrionments that reflect today's needs, while also maintaining the building's historic significance as required through the use of Iowa's State Historic Preservation Office (SHPO) funds.
Meredith Hall sits at the heart of Drake's campus, presenting site access as an immediate challenge for this project. The team determined that it could utilize the wide walking paths near Meredith Hall to direct contractor traffic and provide clear and safe routes for deliveries.
"Minimizing the impact for the occupied campus and residence halls was a big goal," said Rob Ebel, construction manager for Drake University. "We successfully managed to receive no complaints from students."
The first significant milestone for the project was finishing three months of spray fireproofing abatement. The original build of the project included asbestos containing material for insulation and fire protection which needed to be removed and power washed. To be able to do this, two layers of protective material were installed over the walls and floors to protect from the water.
"We pretty much turned the building into a bathtub," noted Story superintendent Ethan Dix noted, who is finishing his third renovation project for Drake. Workers were then able to safely hang electrical, plumbing, HVAC, and other technology from the decking and steel.
The second project milestone was getting the air handling units installed and running. To get the equipment into the basement, crews had to install a gantry crane to lower them through an aerial well. The original units were past their life cycle and were replaced by newly built air handlers measuring 15′ by 30′.
Crews were also tasked with re-installing the original ceiling system, which included 1′ by 1′ square panels that are no longer manufactured. In total, 67,519 sq. ft. of space was renovated over 13 months.
"We enjoy working with Story because they take ownership of the project. They practice what they preach," added Ebel.
Students will have access to the new classrooms and auditoriums in time for the upcoming fall semester, along with professors who will move back into their offices.
Story Construction was recently hired by Drake University to complete another renovation on campus, this time at Morehouse Hall.
Delivery: Construction Manager at Risk
Designer: BNIM
Project Manager: Shane Geiselhart
Superintendent: Ethan Dix
Project Engineer: Lucas Mulder