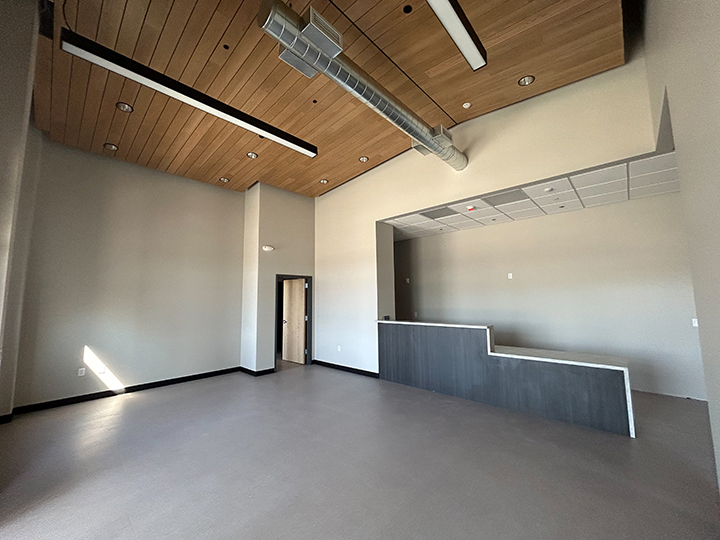 Jetco, Inc. – a supplier of controls and electrical systems for water and wastewater treatment plants based out of Altoona, IA – hired Story Construction to design and build a new office and shop location in a new business development east of Altoona.
Jetco owner John Whitacre had a previous relationship with Story Construction project manager Jerry Long from their work together on water and wastewater treatment plants throughout Iowa. When Whitacre decided it was time for Jetco to move, Story was first on his call list.
"I called Jerry and said, 'Hey, I don't have much time to do this, so you guys are it,'" Whitacre said. "I've known Jerry and Story for a long time, and our experiences together made me comfortable selecting them for this project."
One area of the new facility is a 6,000 SF shop space for testing and assembly of pump controls which feature overhead service doors and a drive-in bay. The remaining 4,300 SF in the new building is primarily office space: a reception area, a meeting room, and offices for engineering staff. The new building totals 10,300 SF.
"We're like a sardine can with people and equipment in our 3,500 SF facility, and we move equipment and materials outside to create room to work," added Whitacre. "Once the land in the development became available, we were ready to go."
The building is a pre-engineered steel structure with insulated metal panels, masonry, and storefront windows. The office area features a pitched tongue and groove wood ceiling and a custom reception desk. Since the new facility was built in a new development, the design team needed to adhere to design standards set forth by the city, right down to the percentage of masonry on the building elevations.
Project architect Andrew Tulp led the design effort with support from Diane McDonald and Dalton Gaffney.
"Our entire design team had its hands on this project, and when we work with a great owner like John and Jetco, these projects are really enjoyable," said Jeff Bodin, principal architect at Story Construction. "We also had great design partners in Snyder & Associates, IMEG and Bluestone Engineering to delivery a quality building for the Jetco team."
Jetco's building is situated in a way that will provide flexibility for future buildings to be built on the lot. Move-in for the Jetco team is scheduled for later this spring.
"The whole experience was exactly what I thought it would be and validates why I chose Story Construction to design and build this in the first place."
Delivery: Design-Build
Designer: Story Design
Project Manager: Jerry Long
Superintendent: Jim Sodders; Carter Westra
Project Engineer: Alex Ulbrich