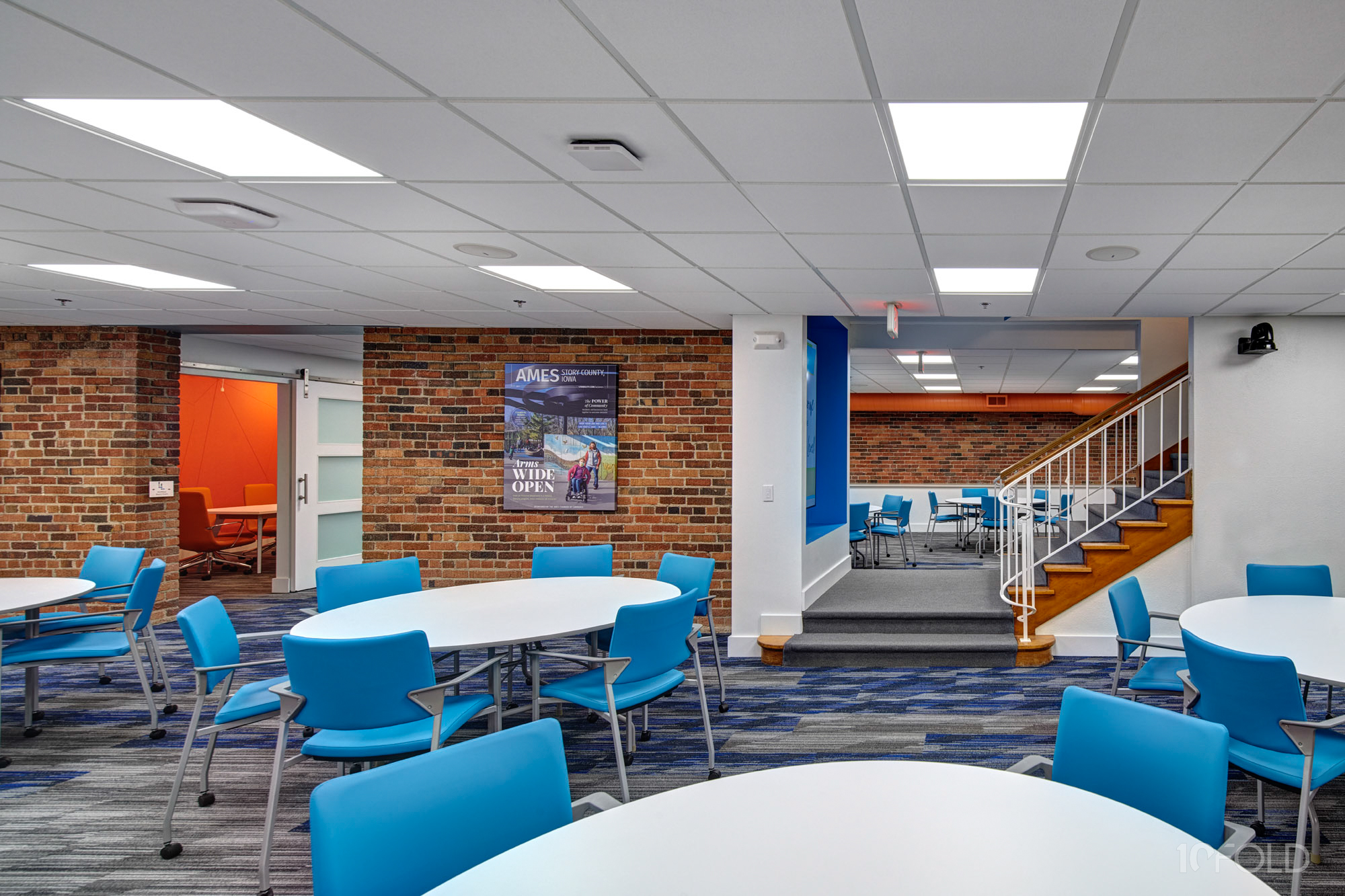 On Wednesday, Sept. 22, the Ames Chamber of Commerce unveiled its newly named and renovated Laughlin Level to the Ames business community during its Business After Hours event. Story Construction's Small Projects Team completed the renovation of the lower level at the Chamber over the summer.
"What we'd heard for years was that there was a need for additional meeting space in Downtown Ames," said Amy Howard, vice president of the Ames Chamber of Commerce. "We were in a position to accommodate that need with our lower level, which was essentially a blank canvas."
Additionally, the only floor of the Chamber's building that was ADA compliant was the main level, leaving just one conference room that was accessible to someone who cannot navigate stairs. These two needs solidified the decision to move forward with the installation of an elevator and the remodel to the lower level.
"We set out to create a space that met the new program needs of the Chamber as well as meet current standards of commercial conference space, offering in a contemporary yet welcoming space for visitors," said Alicia Wilkinson, senior interior designer at 10Fold Architecture + Engineering. "We accomplished this by reprogramming the 3,860 square-foot space into a large conference space, private meeting spaces, and a serving kitchen coupled with a large common space for hosting community events with food and drink."
Julia Laughlin, the namesake for the newly renovated lower level, was the first woman station master at the Ames train depot. The widow of a 30-year veteran conductor on the Chicago & North Western Railroad, she was hired as station master in 1917, due in part to her 20 years of experience traveling with her husband. In 1924 the railroad gave notice that Laughlin would be laid off, which the Ames Chamber of Commerce quickly renegotiated. Laughlin remained at the Ames depot until the early 1930s, holding a meaningful spot in the history of Ames and the Chamber of Commerce.
"The Story team was fantastic to work with," added Howard. "They're always accommodating and continually keeping us in the loop as to what was coming next, and they were always attentive to our needs if we had a meeting and needed to limit noise coming from the work downstairs."
The Laughlin Level's versatile space is available for Ames Chamber of Commerce members to rent for events or meetings. More info can be found on the Chamber's website.
Delivery: General Contractor (Small Projects Group)
Designer: 10Fold Architecture+Engineering
Project Manger: Randy Cummings
Superintendent: Ron North
Foreman: Matt McBeth