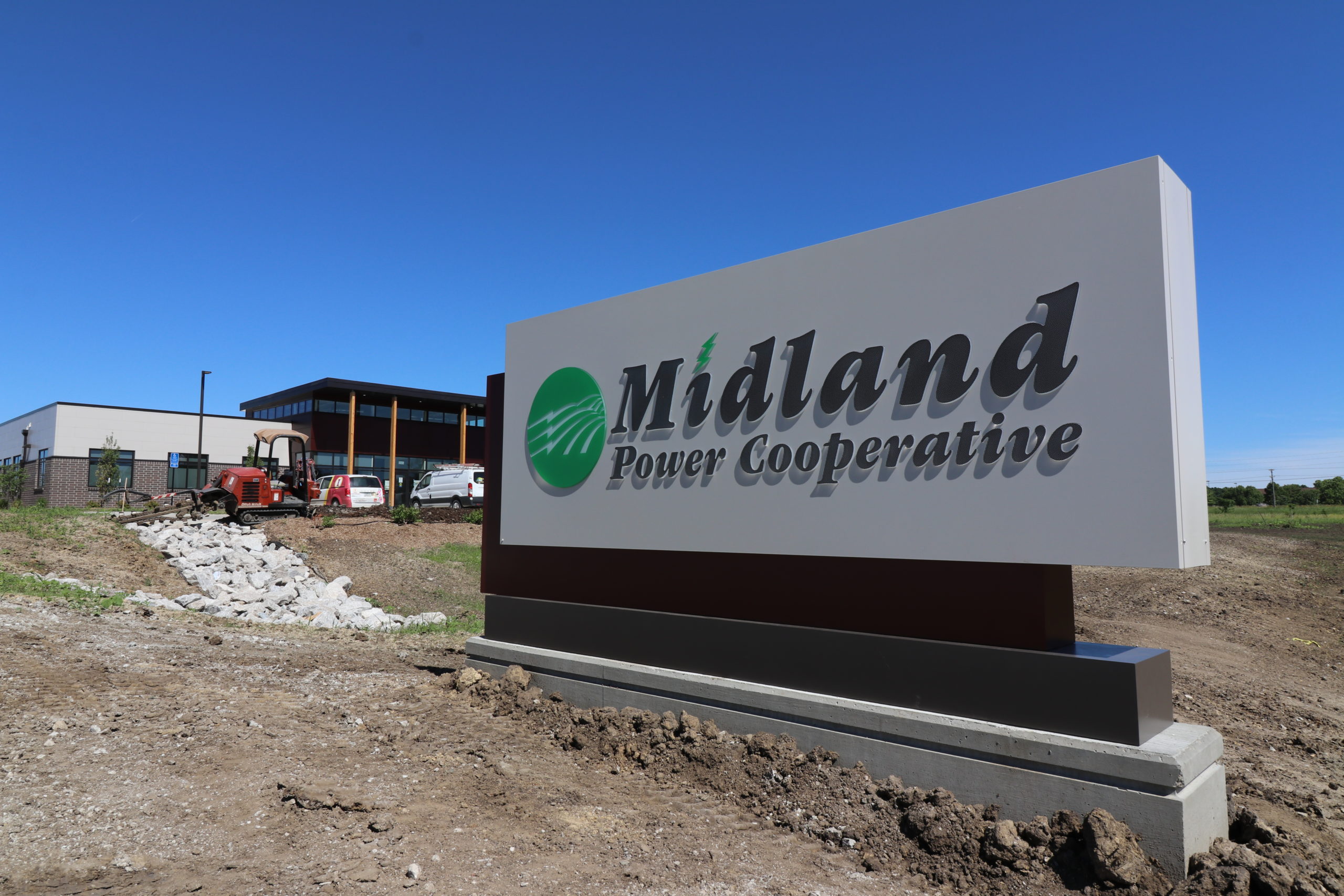 Midland Power Cooperative – part of the Touchstone Energy Cooperative that represents a nationwide alliance of member-owned electric cooperatives – covers over 70 zip codes, 3,900+ miles of power lines, and 17 counties in Iowa. Story designed and built the new 10,000 sq. ft. office that sits on 13.62 acres in Boone. 45 percent of the cooperative's membership is within 20 miles of Boone, and increased access to the Boone, Story and Greene County labor markets will be another advantage for its future workforce needs.
In 2018, The Midland Power Cooperative board of directors approved construction of the new office. As the Midland Power team reviewed different options for the location of the new office, the Story Design team provided building concepts that could be adapted to several of the site options. As the location immediately west of Boone Speedway became the clear favorite, final approval of the design was given on May 2019.
"During the design and planning process, the Story Design team really worked hard to help us envision a final product – from 3D renderings to viewing paint swatches, flooring samples and various finishes in different lighting temperatures," said Mike Wright, Midland Power Vice President of Technical and Member Services. 
The design of the facility features masonry, metal panel and copper accent exterior at the entryway to the building. The outside entryway also features glulam columns that are reminiscent of powerline poles. The building features energy efficient geothermal heating and cooling with a radiant floor heating system. 
"Midland Power expressed a lot of interest in elements of the design of our own office building," said Jeff Bodin, Principal Architect at Story. "Our layout featuring central common space with wings of office and collaborative space resonated with them, so we featured that in the design of their building, along with many materials that the Midland Power team hand picked." 
The team experienced mechanical equipment delays due to the onset of the COVID-19 pandemic. However, sub-contractors and Story Construction adapted to the changes that were needed to keep everyone on the site safe and healthy, and the building was completed for Midland Power to staff the building by summer 2020.
Delivery: Design-Build
Designer: Story Design
Project Manager: Mike Welter, Scott Kutchen
Superintendent: Kenny Lendt, Luke Trewin
Project Engineer: Deb Thurmond