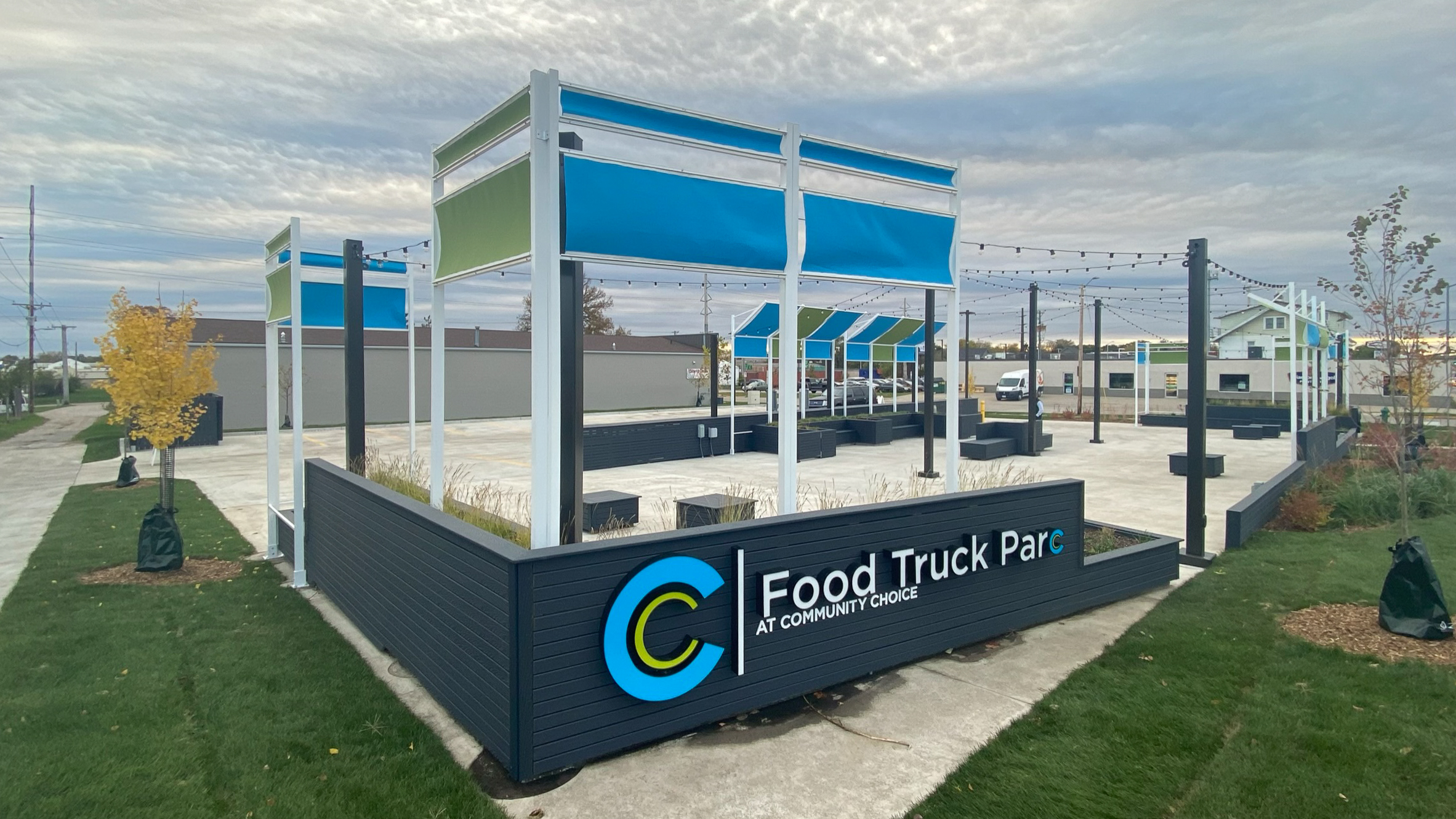 On Saturday, Nov. 13, Community Choice Credit Union held the grand opening of its Food Truck Parc in Ames. The design-build project was led by Story Design, Story Construction's in-house design team, and was completed this fall to become the first of its kind in Iowa. The Parc saw approximately 500 attendees who had six food trucks to choose from and could watch Iowa State take on Texas Tech on a jumbotron.
The new "Parc" features four food truck stalls, each with its own power and water access, plus awnings, benches and planters along with off-street parking. Story Construction self-performed concrete piers for awnings and fences, as well as carpentry for the fences, screen planters and benches.
"The idea came about as we continually look for ways to be unique, unusual, and unexpected," said Matt Swim, a marketing project manager at Community Choice. "We had this plot of land next to our branch in Ames and thought, 'How can we continue to give back to the community we serve and add something not seen in Iowa before?' With food trucks becoming more and more popular, especially in the Ames area, we came up with the idea to provide a location where multiple trucks can park and provide their food to customers without the hassle of finding new locations."
Early planning for the food truck park began in April 2020. Site work began this spring with final construction items wrapping up in October.
"We love unique ideas, so working with a company like Community Choice is a lot of fun in that they're really the ones spurning these 'what if…' ideas on us," said Andrew Tulp, a project architect at Story. "Then we can really bounce back and forth to come up with something like this. A first of its kind concept in Iowa is pretty cool."
"Working with the Story Design team was fantastic, and they were a huge asset in the planning and execution of our vision," added Swim. "They provide a different insight into the project and helped navigate the approvals needed from the city to reach the finish line."
The Parc is open to the public daily from 10am to 9pm and will host more special events as weather begins to warm in 2022. Application for food trucks to locate at the Parc are free, and more information can be found at The Parc's Facebook page.
Delivery: Design-Build
Designer: Story Design
Project Manager: Scott Kutchen
Superintendent: Steve Massa