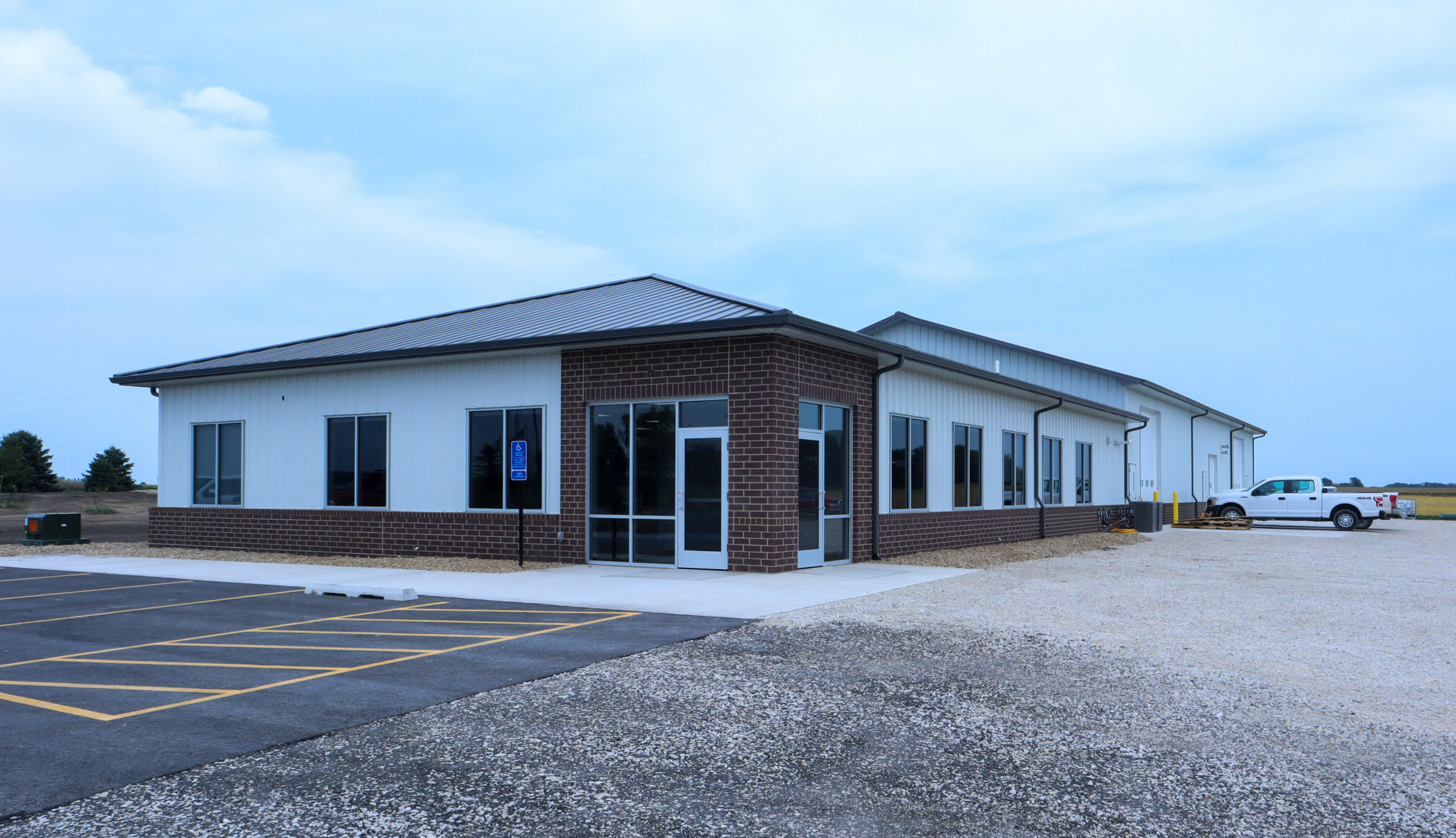 In September 2022, Story Construction and the Story Design team completed a new office and storage facility for Summit Agricultural Group at its headquarters in Alden, IA. The new space will be used primarily for the company's pork production services.
Summit Farms, the crop and livestock production division of Summit Agricultural Group, is one of Summit Ag's core business units. The team works directly with leading national pig integrators to identify suitable locations and oversee the design, construction and maintenance of modern, value-added facilities that promote beneficial production practices.
"With our growth on this side of the business, we needed more space for parts and inventory as well as office space for our staff to grow in numbers," said Brian Schreck, Facilities and Maintenance Manager at Summit Agricultural Group.
The wood framed building features 4,000 SF of office space and 5,500 SF of warehouse storage space. Interiors feature luxury vinyl tile flooring throughout the office to match renovations to Summit Ag's main office that Story Construction completed in 2020. Brick, metal panel and aluminum storefront window systems are featured on the building's exterior to compliment many of the existing buildings on Summit Ag's campus.
Story's integrated design-build delivery allowed Story and Summit Ag to work quickly through schedule and budget constraints early on. Metal building, post-frame and conventional wood structure were all considered early on, and it was determined that wood framing would provide cost and schedule benefits. It also allowed the team to bring in a wood frame subcontractor that was familiar with Summit Ag and could contribute to further planning discussions as the Story team finalized budget models and design scopes that worked for Summit Ag.
"The whole design and construction process was organized and well laid out," added Schreck. "We could go over timelines and review them, and even when supply chain issues affected things, we were able to work around them"
Delivery: Design-Build
Designer: Story Design
Project Manager: Jerry Long
Superintendent: Cory Shepard