On With Life Outpatient Therapy
18,000 sq. ft.
Designer: Story Design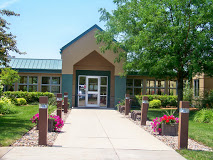 On With Life serves both inpatient and outpatient clients. The outpatient therapy wing was the focus of this addition and remodel for which Story served as the contractor and Story Design, Ltd. the architect. The addition includes a therapy gym, therapy training rooms, wellness center and new administration space. There is also a new therapy pool complete with lifts and underwater treadmill.
Part of this project was the construction of a practice apartment. The apartment includes a bedroom, bathroom, living room and kitchen area. Another unique addition to the facility is the therapy car. Placed in the therapy room, the car helps patients relearn getting in and out of whatever vehicle they're used to, whether it's an auto, pickup or SUV. The OWL project also included renovation of existing space. The facility's kitchen finishes were upgraded and the layout revamped. The existing dining room was converted to a coffee shop while existing therapy rooms were converted to a new, larger dining room. A new Speech Therapy area was constructed along with a remodeled Maintenance Department.