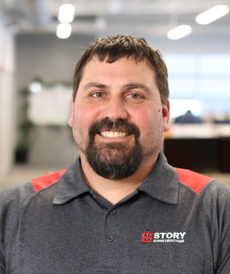 Role: Superintendent
Years at Story: 24
Cory started with Story Construction as a laborer in 1996, the year he graduated from Aplington-Parkersburg High School. In 2001 he gained an associate degree in applied science for architectural and construction technology from Hawkeye Community College, which propelled him to a construction tech position until becoming a foreman in 2009, and eventually a superintendent in 2017. 
"What I like most about this industry is the processes. It is very rare to use the same process for every project. Sometimes we start with a blank canvas; sometimes we take away and add more to a canvas. We have very diverse work that expands my knowledge in so many ways." 
A few significant projects Cory has contributed to over the last several years include Veritas Church in Tiffin, Iowa; East Penn Manufacturing in Oelwien, Iowa; the recovery and reconstruction of RACOM in Marshalltown, and the manufacturing addition for United Equipment Accessories in Waverly.
"I've worked on a lot of very memorable projects, but I'd say the Gallagher Bluedorn Performing Arts Center at UNI was one of my favorites. It was my second project with Story while attending college. We had a very large scope of work and many opportunities to learn new skills, and there were many mentors on that project to learn from, like Dale Hofert, Jim Sodders, Jim Everts, Dave Lott, Gordon Hutton, Tom Payton and Brian Haessig and more."
Away from work, Cory enjoys just about every outdoor activity there is, from golfing to ice fishing, and especially hunting with his sons. Cory also enjoys restoring his small collection of Ford tractors. 
"My activities require attention five days per week and I only give them one or two. Let's just say I'll have no problem finding things to do when I retire one day."