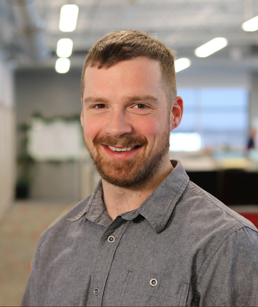 Role: Project Engineer
Years at Story: 6.5
Dennis, a Davenport native and graduate of Davenport Central High School, began his career at Story Construction in 2014 after graduating from Iowa State University with a degree in construction engineering.
"What I like about this industry is seeing new technologies that are starting to be used on job sites. It seems like every job site brings in materials and products that are new and different."
In his seven years at Story, Dennis has worked on a wide variety of projects, from wastewater treatment plants and college residence halls to industrial processing facilities and even a zoo. He's currently supporting the Ames High School project as a project engineer. 
 "One of my favorite projects so far in my career was the giraffe house at the Blank Park Zoo. It was different than any other job that I've done, and the number of things that needed to be coordinated to make everything work together in a limited amount of space was very unique."
Outside of working hours, Dennis enjoys disc golf, ice hockey, cycling, obstacle course races, and occasionally golf. 
Thanks for your hard work and dedication, Dennis!