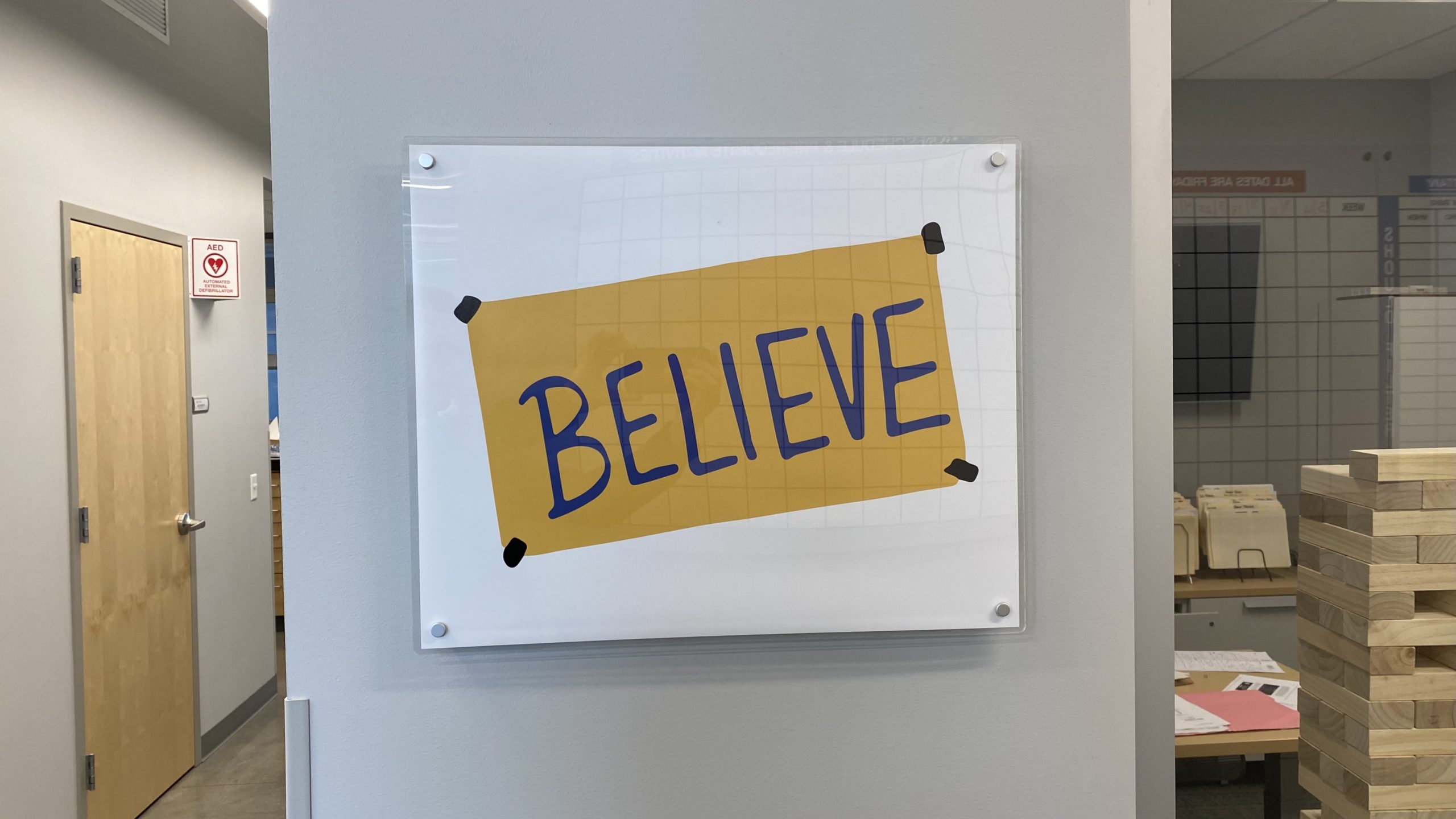 'Tis the season! Christmas, that is. I hope you've had the chance to view our Christmas message and the Fireside Chats with a few of our own folks at Story.
My mental frame of reference this holiday season is influenced by Ted Lasso, the fictional American football coach turned soccer coach in Europe. For those unfamiliar with the show, what Ted lacks in knowledge of the game he more than makes up for in his understanding of people. I know it's fiction, but that does not diminish the value of what we can take away from the experiences of the characters in the show.
Ted encourages his team to believe in themselves and in one another. The sign he crafts by hand and hangs outside his office says as much. I have a replica of the sign outside of my office, too (see above). The following is an excerpt from a Fast Company article about Ted Lasso and leadership lessons from the show, in particular about that BELIEVE sign:
A single word emblazoned on a yellow sign hung with duct tape over the coaches' office—Believe—reminds everyone in the locker room of the power of belief: belief in oneself; belief in the team; belief in ideals and goals (in each definition of the word).
Lasso hangs the well-worn yellow sign in the locker room in the pilot episode. Jones points out that it's crooked and directs him as he tries to fix it. They agree that it's "perfect," but when the camera pans back, we see that it's just as askew as it was at the start. The belief doesn't have to be perfect—it just matters that it's there.
Let's be honest – there's a lot of prosperity and opportunity in our society and in our work environments during this time. By the same token, there is a lot of turbulence (distress, chaos, inflation, supply chain uncertainty, etc) in our lives today, too. At times, it is simply hard to have a good day. We need to have a forward-looking focus and belief that we will persevere, grow and succeed in those things that are in front of us. If we only focus on the here and now and in the recent past, it is hard to stay positive for very long. It is hard to believe it will get better, and stay that way, any time soon.
I am reminded that in my faith, I ask for my daily bread. While I realize I am getting my daily bread right now, I have to believe that better times are ahead for us all. I do believe. I hope you do too.
Merry Christmas and Happy New Year! I can't wait to see what 2022 brings for us all.