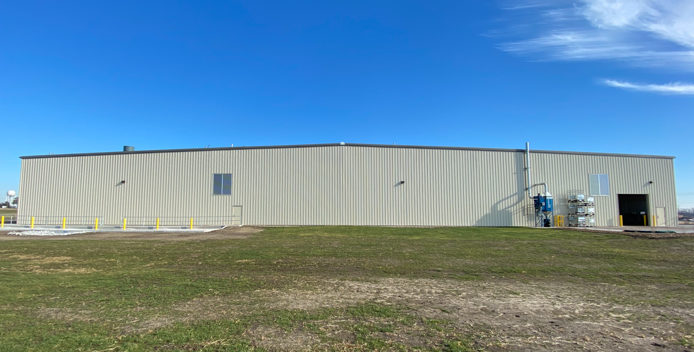 Colorbiotics – known for its mulch colorant and now its asphalt, rubber, rock and recreational surface coatings – has been manufacturing in Ames for more than 25 years. In 2008 Story Construction designed and built its 140,000 sq. ft. facility, which featured office, laboratory and manufacturing space. 
As the team at Colorbiotics explored new processes, the need for more space became evident, and they worked with Story Construction once again to design and build an addition onto the 12 year old building. 
"The need for this addition was brought about by three things," said Kent Rotert, Vice President of Colorbiotics. "We needed production space for a new plastic recycling process, space for an asphalt additive line, and raw materials warehouse space."
The design included a pre-engineered NUCOR metal building (PEMB) with an insulated roof and wall system, as well as a fire suppression system. Three dock locations were designed to add to the existing 14 docks, and two overhead doors were added to connect to the existing building from inside the addition.
Mechanical and electrical systems were configured for new processing equipment that would be installed by Colorbiotics. This meant that, for the most part, the new processes needed to be laid out in conjunction with the finished design of the building. 
"As the processes that this addition would house were being ironed out, our design team and the folks at Colorbiotics really needed to communicate effectively," said Jeff Bodin, Story's principal architect. "There was a fair amount of under-slab rough-in work necessary, so we remained flexible during design to make sure the addition could serve its purpose for Colorbiotics.
 A late addition to the project was a tanker unload area outside the northwest corner of the addition that required a containment basin in case of a spill while unloading. The basin can hold in excess of 4,000 gallons and could be pumped out should a spill occur. 
Story was also able to use a MasterFiber synthetic concrete reinforcement solution that is produced using recycled plastic. The MasterFiber product was used in all of the concrete poured for this addition. 
Story self performed footings and foundations, concrete wall pours and pre-engineered metal building erection on the project. 
"Story has a good group of people who care about what they do," said Rotert. "Whether it was Jim, Adam or anybody else involved in the project, they care about what they're building and what we're trying to accomplish."