Two construction projects led by Story Construction over the summer of 2020 set out to improve the everyday experience for students at the Ottumwa campus of Indian Hills Community College, and for student athletes at its campus in Centerville. 
Dining Center Food Service Renovations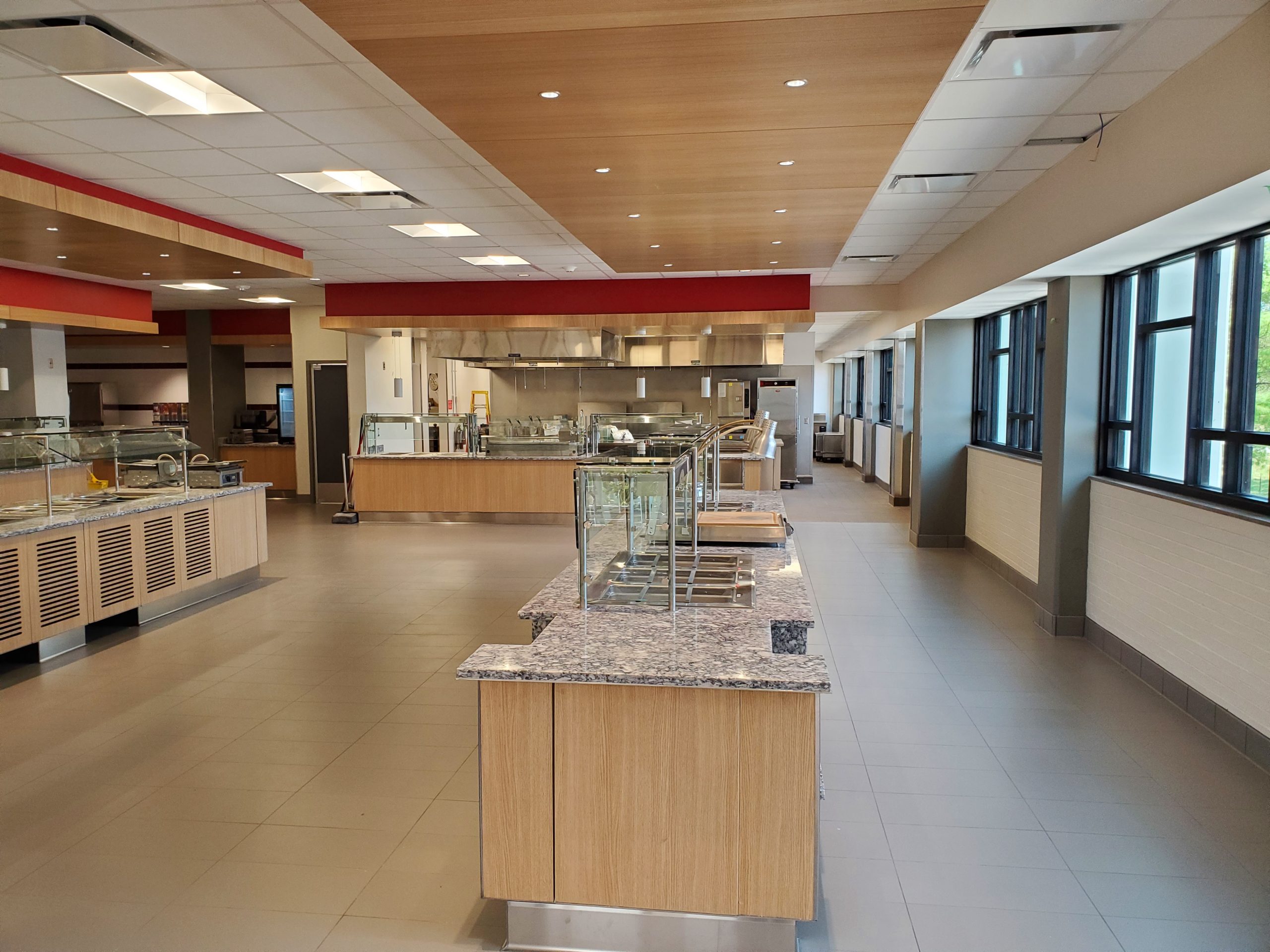 Over the summer of 2020, crews completed the demolition and renovation of the kitchen and service areas at the dining center of Indian Hills' Ottumwa campus. The serving area had originally featured outdated ceramic tile on the floors and countertops, mirrored ceiling tiles, neon accent lights, outdated windows, and an overall closed off and segmented layout. Students were choosing to eat at other on-campus venues rather than the main facility. 
"We were tasked with redesigning the foodservice experience into modern made-to-order food stations with a wide variety of foods that would appeal to students." – Kristin Lewis, OPN Architects
 New kitchen equipment included a new dishwasher and conveyor system, pizza oven, international cook's station, and other appliances. New floor tiles, acoustical tile drop ceiling, and wood soffits for existing serving stations were also installed for a modernized and welcoming look. In addition to the improved student experience, the made-to-order food stations provide culinary students the opportunity to learn and work in a hands-on experience.
"The renovations of the foodservice areas flowed seamlessly with the existing dining hall and adjacent lounge areas with the new layout and finishes," Lewis added. 
Though some adjacent dining areas weren't included in the scope of work, the Story team and on site crews needed to keep the areas as clean as possible, considering much of the space was used for food preparation. Construction was completed in August 2020 for students' return to campus. 
Centerville Multipurpose Facility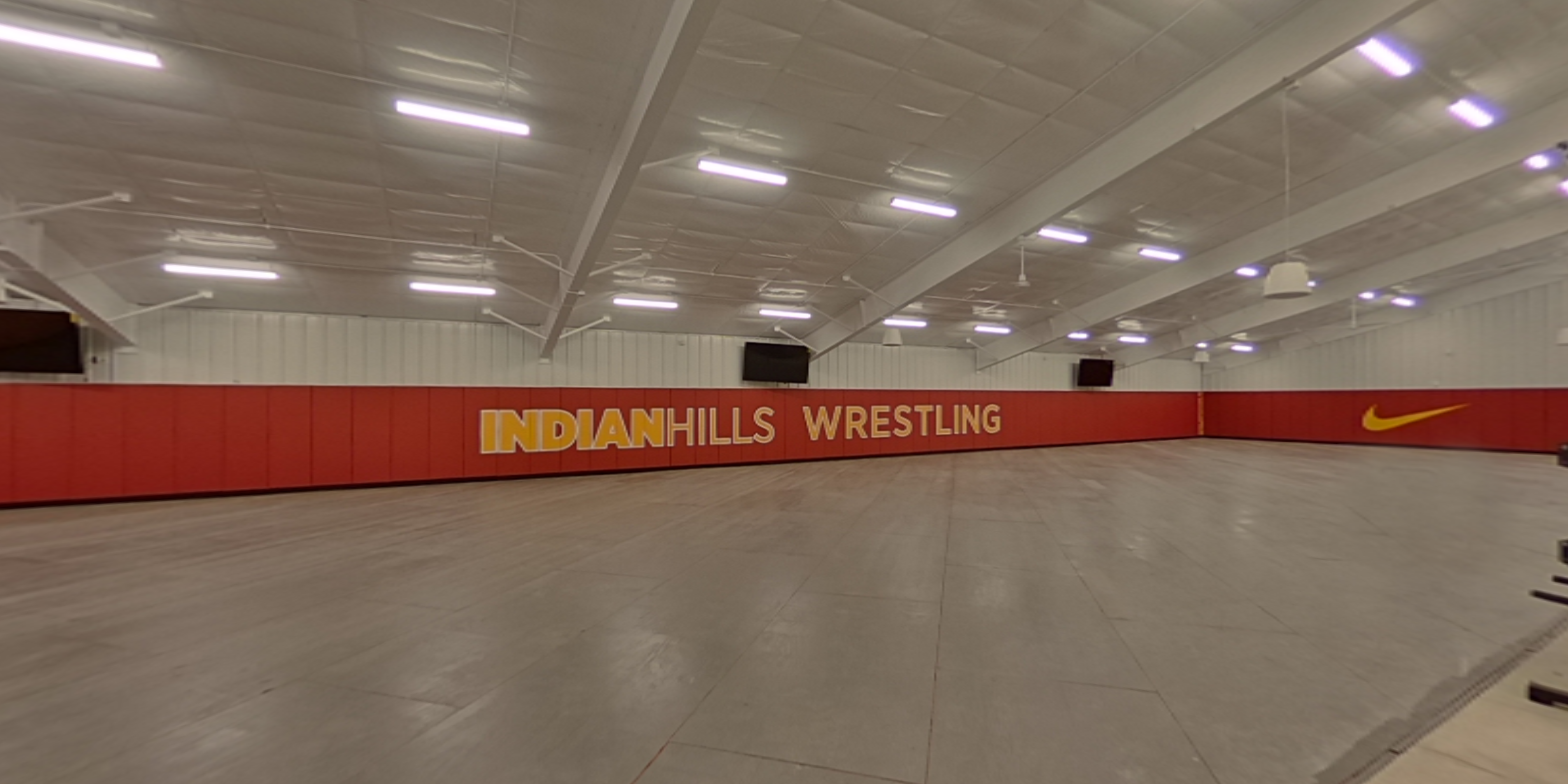 Soon after establishing a wrestling program at Indian Hills' Centerville campus in 2019, the school realized additional space was needed as existing athletics facilities were heavily used by the baseball program. Near the end of the summer, work began on a new 11,450 sq. ft. multipurpose facility at Indian Hills' Centerville campus for the wrestling program.
The new multipurpose facility includes open space for three full size wrestling mats, men's and women's locker rooms, and a coaches locker room, office and lounge. Owner-purchased fitness equipment including treadmills, ellipticals, pullup bars, kettlebell racks and padded wall protections were installed as well. 
Construction began on the building in August 2020 and work was wrapped up before Christmas.
"At IHCC we want our students, faculty, staff, and community to be proud of the work we do inside and outside the classroom.  These projects are just one of the many ways we are accomplishing that objective." – Mike Lee, CFO of Indian Hills Community College
These projects continued the relationship built with IHCC and OPN Architects in 2019 as Story completed the bathroom renovations project in Trustee Hall on IHCC's Ottumwa campus. 
"Story has been instrumental to these projects and the expertise they provide shows in the finished product," added Lee. "Our in-house staff have a lot of responsibilities keeping up with our day-to-day operations. Story becomes an extension of our staff and guides us through the project, keeping contractors on task, and ensuring the project is completed on-time and on-budget."
Delivery: Construction Manager
Designer: OPN Architects
Project Manager: Clint Jensen
Superintendent: Luke Trewin