Bidding Documents for the new Ames High School were issued on Tuesday, July 9th. A pre-bid meeting will be held on July 31st at 10:00AM at the Ames Community School District Board Room – 2005 24th St., Ames, IA 50010. The new high school is being constructed on the site of the existing high school. The anticipated gross area of the new high school building is approximately 425,000 sq. ft. which includes approximately 32,000 sq. ft. for a swimming pool facility. Multiple prime contracts will be awarded.
Bids will be due on August 15th.
Bid documents are available at www.beelineandblue.com.
Planning for the new high school began in 2017 after the district performed a study to assess the current high school and its facilities. After deciding to move forward with plans to build a new high school, the district hired Story Construction as the construction manager for the project. OPN Architects was then selected to design the new building in February 2018.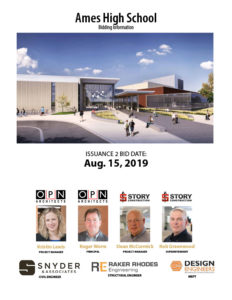 On April 3, 2018, voters approved a $110 million bond referendum for the project. The team broke ground on the new high school project on Monday, June 3, 2018. The new high school is scheduled to be complete for the beginning of the 2022/2023 school year.
Visit this link to view what's happening at the jobs site right now.